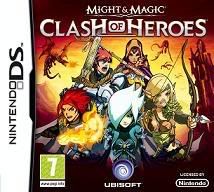 After several delays, making it the third installment in the Might and Magic series (not counting H5 expansions) since Ubisoft took over the M&M brand from 3DO back in 2003, this week was released
Might and Magic: Clash of Heroes
on Nintendo DS. You might remember it was developed by Capybara Games to which CH spoke
earlier this year
. We'll most likely have our own review but check out what
IGN had to say
about the game, before awarding the game 8.9 out of 10 while Metacritic's average for now is 86/100:
Might and Magic: Clash of Heroes is a downright awesome strategy game, pure and simple. The visuals are a beautiful mix of classic Super NES designs while using DS's 2D capabilities to its fullest, the music is captivating and well-produced, and the story is surprisingly rich, filled with characters I actually cared about and plot twists that were well executed. There are some definite areas for improvement, including the removal of some of the game's inherent guess work that comes with learning new units, jumping into battles, or taking out bosses, but the effort you'll put in is greatly rewarded. The game's story mode will take players well over 30 hours, and it's filled with side quests, bounty hunts, puzzle battle challenges, hidden units and artifacts, and some great characters along the way. Leading the pack is the battle mechanic though, and it's the game's crowning achievement to say the least. The five races are well balanced, units are a blast to use, level up, and strategize with, and the core system itself is strong enough to facilitate plenty of expansion in what I hope flourishes into a full-on franchise.
Maybe this is a reason to buy DS? What do you think?