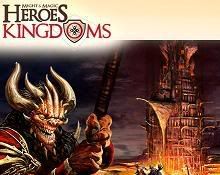 French portal
Clubic.com
reports that last Wednesday started the French open beta of the online browser game
Heroes of Might and Magic Kingdoms
which at the moment is limited to 3000 players. It is possible that Ubisoft as a French company first wants to see the reaction from the local audience before making the game available worldwide or perhaps to give own players exclusive access. In the meantime, still no official news regarding the international open beta so we will have to wait a little.
Several players at Ubisoft official forums have observed that all available seats in the beta were filled very quickly and that at the moment there are no free spots. However, if you are French, you can still
try your luck
- maybe the player limit will be increased at some point later.
Clubic.com has also posted several unseen in-game screenshots and the
HoMMK beta main page
has some extra eye-candies as well so check them out!