News
by

Kalah
---
As promised, here is a video of my screen as I started up the closed beta. In the top left corner, you can see the FPS numbers. I will make more videos and I am taking requests: what do you want to see? Ask your questions and participate in the discussion
here
.
---
by

Kalah
---
So, let's try again.
As you can see
here
, the beta of
Heroes VII
opens tomorrow:
Might & Magic Heroes VII's Closed Beta will be available tomorrow (June 3rd) at 2pm CEST and will last until Wednesday 17th 2pm CEST!
For those of you who are playing it, I would like to invite you to
this forum topic
where you can post your impressions.
---
by

Kalah
---
The saga continues!
Well, not really. But on my
Youtube channel
, you can now find this, the second gameplay video. Short this time, focusing on
graphics
. What I'm doing is play around with the graphics settings so you can see how the framerate behaves and how the graphics of the game changes with the alternate settings.


In my opinion, the effects seem good and don't change a whole lot when you turn the settings down a notch or two, but there are a couple of buttons you can push if the game is too resource demanding - while not taking away the good graphical experience.

Give your impressions of the beta and ask questions here
---
by

Aemaeth
---
Dear Heroes,
After weeks of advises, Dev Team give some news about next Tales for Heroes VII. It seems players want more information about Naga and the Lotus Empire, The Griffin family, and Sandro, the famous Necromancer.
We now have to wait more income from the Spy Master :)
See more on
Heroes VII Dev Blog
.
---
by

Aemaeth
---
Dear Heroes,
Some days ago, dev's team shows to the community bios and portrait of stronghold's hall of Heroes.
Some of them are present in the campaign, and all will be available in skirmish or multiplayer maps.
You can discover or rediscover them: Yog, Ishi, Drakon and Anga.
See more on
Heroes VII Dev Blog
.
---
by

Aemaeth
---
Dear Heroes,
Finally, The Dev team has revealed the line up for Sylvan's faction, with all basic and elite units.
For those whom haven't seen the news, Sylvan faction is composed of:
- Hunter & Master Hunter
- Dryad & Oak Dryad
- Pixie & Sprite
- Druid & Druid Elder
- Moon Doe & Sun Deer
- Blade Dancer & Blade Master
It is not a surprise, players are quite upset about characters' design. Some comments consider that Moon Doe is too cute to go on the battlefield.
Others are quite upset about the choice of having women as Druids, event the lore justifies this choice.
The main criticisms concern the lack of muscles for Blade Master.
And you, what is your opinion about Sylvan's units ?
See more on
Heroes VII Dev Blog
.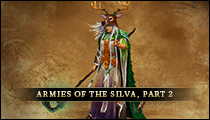 ---
by

Aemaeth
---
Dear Councillors,
Dev team reveals some figures about the first closed beta test last June, and we give you a tiny abstract:
- Favourite Faction: Haven was more played than Academy.
- Top 3 skills: Exploration, Light Magic and Righteousness.
- Top 3 abilities: United we stand, Sisters of Mercy and Snatch.
- Top 3 spells: Sun Beam, Fire Bolt and Frost Bolt.
You can find all figures on
Heroes VII Dev Blog
.
Moreover, a new vote is set up. Players can choose the next faction available for the closed beta test 2, besides Haven and Academy.
All shadow councillors can choose between Stronghold, Necropolis, Sylvan and Dungeon. You have until July 15th to give your opinion.
And you, which one do you want to test during the next closed beta test?
See more on
Heroes VII Dev Blog
.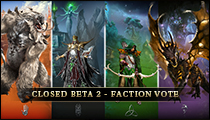 ---
by

Aemaeth
---
Dear Councillors,
After giving us Sylvan's line up some days ago, Dev Blog finally reveal Might & Magic's Heroes for Sylvan.
Might Heroes are Avenger, ranger or Warden, suit with light armor and a bow.
Magic Heroes are Thornsower, Mystic and Starsinger, designed with cape and a spear.
Numerous players' comments those artworks, and many dislike helmets or cape design. Maybe Ubisoft will change those aspects during the 3D creation...
And you, do you consider those design matches well for Sylvan's faction ?
See more on the
Sylvan Magic Heroes page
and
Sylvan Might Heroes page
.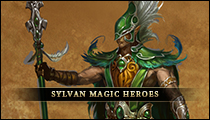 ---