News
by

Kalah
---
Ubisoft have announced a contest where you can win tickets to a fan day along with
"a great selection of various gaming magazines and websites from different countries to present the game progress and unveil some new exciting information"
on Friday, March 13th near Paris (France).
How to participate:
Basically, you have to participate in the comments section on the
official blog
site and prove that you're a big Heroes fan. As they say -
"share in the comments section why you think you are the hardest Heroes fan, share pictures, videos or anything that could support this statement! Originality will be rewarded and even if you are not selected in the end, your contribution will be rewarded through this website. "
.
Deadline: Feb. 25th 00:00 CET.
Of course, this is a total rip-off of our
own
contest
held back in December
and
one we held back in
2011
, but as it goes through the official site there will probably be more participants, meaning a smaller chance to win, meaning that the CH contests are the best.
More info here.

---
by

Kalah
---
The
official blog
has brought out an update on how things are going. Head on over there to read about how the devs are doing on:
The Adventure map,
Combat map,
Hero Management,
Town Management,
Story & Music,
Factions,
Level design.
---
by

Kalah
---
Blue Byte have announced
The Champion of Ashan
, a tournament for Heroes Online, the prizes of which include a Playstation 4, big Amazon gift certificates and enough moolah to keep the party going for weeks:
"The Champion of Ashan Tournament is a PvP based tournament in which everyone can participate. The preliminaries will be fought in each environment individually at which end the top 10 of the main league from each server are nominated for the finals.
During the preliminaries you have to fight ranked PvP duels to earn the necessary points to get to the main league and to the top of the main league. But that's not all, you can also sign up for a wildcard lottery from which, randomly, 2 additional players will be nominated for the finals."
The full article with information about the competition and the prizes can be found
here.


Sign up for Heroes Online today and get to work on the tournament!
---
by

Aemaeth
---
Dear Heroes,
The Heroes VII DevTeam has published some information about the game since the beginning of march.
First of all, the 8th part of Tales of the Ten Years War was released. With this story, players had more information about the election of Seamus na Feidh, Duke of Stag, as the Emperor. After seven years of war, people trust him to put an end to the conflicts... It was not very efficient...
Secondly, developers gave a bunch of screenshots. You can find some of them directly in our gallery.
Finally, a part of the community was complaining about the art direction of Necro faction, they gave us Might Heroes's concept and some of their abilities. Players are quite satisfied of modifications !
See more details on
Heroes VII Dev Blog
.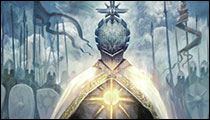 ---
by

Kalah
---
The devs have done some spring cleaning and by chance discovered an old piece of music from the 3DO days.
Pop over
here
to hear the track on Soundcloud.
---
by

Kalah
---
In case you're wondering where is the information about the
press event
held in Paris this weekend, you may have to wait a while.
I refer you to the small print of
the contest
Ubisoft held earlier:
(...) no information is shared before embargo time (end of March, exact date to be confirmed).
There is still no exact date released, so I suppose soon™ is the best we can do so far.
---
by

Aemaeth
---
Dear Heroes,
Some days ago, Dev Team present Haven's Heroes on Heroes VII Blog. Players can read the specs of four new Heroes:
- Kryztoff, Inquisitor, with a Magic bonus when summoned.
- Tyris, Nice Paladin, whom can increase the production of Cavaliers and Cuirassiers each week in the Area of Control.
- Ymoril, Brave Paladin, whom can increase the production of Guardians and Justiciars each week in the Area of Control.
- Edric, Vincicator whom can increase the production of Wolves of Griffins each week in the Area of Control.
Players have asked Ubisoft which type hall of Heroes developers will implement in the game:
- Recruit any heroes we want, like H6 and H4,
- Or having a tavern, like H5 and H3...
Ubi Nox has sent a message for the community, in order to clear players questions:
Please keep in mind that those Heroes specializations only are 4 examples, there will be of course more variety on this topic. Moreover, Heroes presented in this page are the regular "tavern" heroes but you will also be able to recruit Heroes with a special role in MMH7 story or universe, those ones will have also their own specializations.
See more on
Heroes VII Dev Blog
.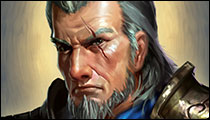 ---
by

Aemaeth
---
Dear Heroes,
A new struggle appears in Ashan, in Seamus' Empire. The Duke Ivan wants to show the people Seamus' atrocity in different nations and frontiers.
A War is about to begin, and all characters have to pledge loyalty to the Emperor, or join the "traitorous" Duke of Griffin.
Using Talonguard as his base of operations, Ivan would gather his and Stefan's forces, march on Horncrest and remove Seamus from the Holy Throne. Of course, thanks to the information I had obtained on my end, he already knew that beyond the borders of the Stag Duchy, Seamus was also preparing for war…
See more on
Heroes VII Dev Blog
.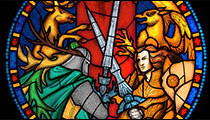 ---
by

Kalah
---
No, this isn't a petition to get more 'Twilight' books printed (shudder), it's a story about
you
being able to vote for
your
favoured H7 Vampire design. By going to the
Shadow Council website
, you will be able to vote for your favourite of three possible designs: The Vampire Knight, The Night Lady or The Blood Monster.
Two possible innovations here; there is a sword-less alternative, so Limbic may bring back the melee monster we know from earlier incarnations of the series, and there is also the possibility of the vampire being of the
female
persuation.
The fans have been screaming their proverbial heads off, complaining that the Vampire design
shown earlier
was both silly and merely a re-hash of assets from
Heroes VI
. Taking the "advice" to heart, the Devs
said
they would see if it was possible to change the designs. They did, and apparently it was, so the fans should be happy to see their hard work (shouting at devs is such a strain on the throat, we know) pay off. Finally, then, you can all vote for your favoured design and get something proper into the coming
Heroes VII
game.
Oh, and there is also a
vote on the Lich design
. But who cares. Liches suck.
---