News
by

Aemaeth
---
Dear Councillors,
Dev team reveals some figures about the first closed beta test last June, and we give you a tiny abstract:
- Favourite Faction: Haven was more played than Academy.
- Top 3 skills: Exploration, Light Magic and Righteousness.
- Top 3 abilities: United we stand, Sisters of Mercy and Snatch.
- Top 3 spells: Sun Beam, Fire Bolt and Frost Bolt.
You can find all figures on
Heroes VII Dev Blog
.
Moreover, a new vote is set up. Players can choose the next faction available for the closed beta test 2, besides Haven and Academy.
All shadow councillors can choose between Stronghold, Necropolis, Sylvan and Dungeon. You have until July 15th to give your opinion.
And you, which one do you want to test during the next closed beta test?
See more on
Heroes VII Dev Blog
.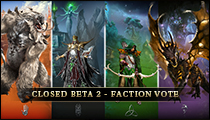 ---
by

Aemaeth
---
Dear Councillors,
After giving us Sylvan's line up some days ago, Dev Blog finally reveal Might & Magic's Heroes for Sylvan.
Might Heroes are Avenger, ranger or Warden, suit with light armor and a bow.
Magic Heroes are Thornsower, Mystic and Starsinger, designed with cape and a spear.
Numerous players' comments those artworks, and many dislike helmets or cape design. Maybe Ubisoft will change those aspects during the 3D creation...
And you, do you consider those design matches well for Sylvan's faction ?
See more on the
Sylvan Magic Heroes page
and
Sylvan Might Heroes page
.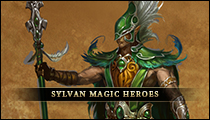 ---
by

Kalah
---
On Monday, we are attempting to migrate to a new server, so we can give our site a much-needed update. On that date, the Round Table forums will be set to read-only. Inactive users will be pruned and we will try to upgrade the forum to phpBB3.

We don't know how long the downtime will be. Minutes, hours, days ... we don't know. Wish us luck.

Edit: We're half up!
---
by

Kalah
---
Ladies, Gentlemen - dear readers. For many years now, we have been trying to update our site, giving it new software that can stand the test of time. Something that can be supported by today's server providers and also more easily be updated when we need to in the future. After sterling work from our house-trained gremlins the last several weeks, we are well underway.
Our Round Table forums are up and running.
---
Read more: We're Making Progress!
by

Kalah
---
Ubisoft are launching a second beta round next week. They are also giving away beta codes at random intervals, but they are snapped up quickly so you'll have to pay close attention to their Facebook account if you're going to get hold of one.
In this round, you will be able to play Haven and Academy, as before, and also Dungeon and Sylvan. There are 4 different maps.
For full info about this beta round, see this page.
If you're playing the beta, please pay special attention to the bugs that still exist and report them to the developer team. What we need at this point is not merely players trying the game, but actively contributing to its improvement. You can also post your general impressions in our forum.
---
by

Kalah
---
The "gold version" of a game traditionally means the version that is printed on CDs/DVDs and shipped to stores for distribution. In later years, though, especially with the breakthrough of digital distribution, the term has become somewhat ambiguous: it usually means the finished product as the players see it on day 1 of sales.
The Heroes VII developers have now announced that the game is "content & feature complete", but that bugfixing and polishing will continue for another month right up until release on Sept. 29th. With Ubisoft, that means a "day-1 patch" to accompany the physical copies if that is what you have bought.
This final development is what the second beta test is for. If you're playing that, please help the devs all you can by reporting any weaknesses you encounter, so that the final version gets as good as possible. The devs would like you to focus in particular on multiplayer bug reports and AI optimization. Go here to read all about the second beta.
---
by

Kalah
---
We have gotten word that Limbic are going to set up a live stream of the closed beta #2 tomorrow. During the stream, Dan S and a level designer will be playing a skirmish map and answer questions from you fans, chatting and having a good time.
You wanna hang out with the devs?
Join the stream here at 15:00-18:00 GMT+2 (German time)
---
by

Kalah
---
Our old buddy Marzhin popped by and said here will be another Twitch stream by Ubisoft on September 8th, this time featuring stuff about the H7 map editor, as well as what Marzhin calls "some surprises and announcements".
The official announcement about the video is here.
---