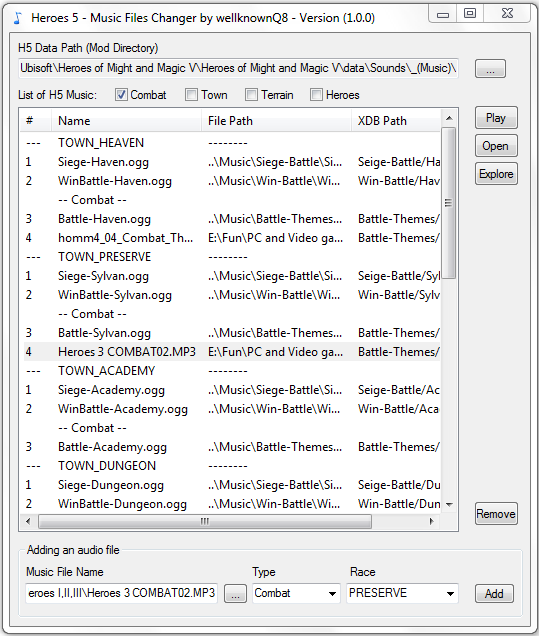 Hi There
Because I'm getting bored from the repetitive combat music for the same race, i decided to change it to the previous random ones like H3 & H4.
After figuring out how to change the files, it appeared that it has many steps to do that (modifying a file then creating a new one and link it back from the main file ...)
so it is better to have a program that does this for you
What does this program do?
1. Changes
'Towns', 'Win Battles', 'Seige Battles', 'Terrain', and 'Heroes'
music.
2. Adds new combat music
3. Removes a music file
How to use it?
1. Extract the file into "Heroes5\Data" folder (either the original or the expansions), i.e. into the folder "X:\MyGames\Heroes of Might and Magic V\data"
2. Run the file "H5_Music_Files_Changer_1.x.x.exe" then specify the "Heroes5\Data" folder, Now you should see the list of the music files used in the game
3. Add/remove the music files you want
Notes about the program:
* The "Play" button: can play mp3/mpeg/wma files, but in general you can use the "Open" button.
* It adds music files for 'Towns', 'Combats', 'Win Battle', 'Seige Battle', 'Terrain', and 'Heroes'.
* The game accepts most of media file types (mov, mpg, ogg, mp3, wav, wma) and i think this depends on the codecs.
* If you did many changes with the mod, and you want everything back, simply delete the 'sounds' folder then extract it again.
General notes:
* To have more than one soundtrack for
combat
music, simply add more audio files and they'll be played randomly.
thanks to eltorro and weaponx
Hope that you like it
Yours
wellknowQ8
latest update 31-August-2009
to download it:
MediaFire - H5_Music_Changer_1.0.0.zip - 0.34MB
Megaupload - H5_Music_Changer_1.0.0.zip - 0.34MB