Hey, everyone! My dream is to become the greatest game designer in the world, I am Orvald Maxwell, and here is my first game in-progress
. Its heavily based on MM7, so if you liked the original, you might be interested in this one too. I'll be sharing my ideas and screenshots, and hope to get feedback, advices and curses.
So far, I have completely re-created MM7 engine using Unity3D , you may see some small test-gameplay footage in the video below:
http://youtu.be/y0vTdfkjTA4
And here are some screenshots from the game: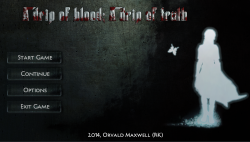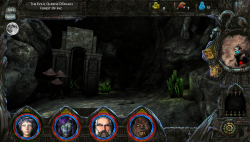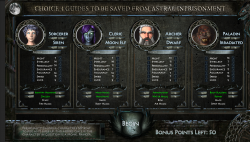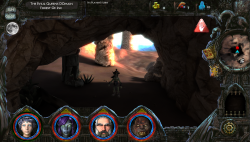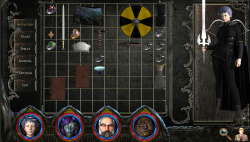 Engine still needs some work and bugfixes, but generally I am very satisfied with the results, as it is very stable, flexible and uber fast. So, after I have this solid fundament, my pre-production stage is over, and its time to rock!
--- Is is going to be MM7 clone? ---
I'll be very conservative about MM7, keeping as much as possible from the original series, but all my efforts are going to be focused on what is really important for the game: level design and enemy AI.
Basically, I want to add limited amount of very important features, which will make original mm7 formula much more exciting and not so dated. Modern "hardcore" dungeon crawlers all are nothing but a huge step back, unfortunately.
I'd like to keep the most imporant part - MM7 core - but I don't think anyone can explain, what that 'core' really is. Its something that genius of 3DO team assembled, and this happens only once in a lifetime. All I know for sure is that 'mm7 core' has something to do with very smooth difficulty progression which complements fantasy exploration. This makes even more sense, when you memorize all MM7 data tables. So I'll keep it in mind all the time.
-- Platforms --
I'm developing game for PC with optional Oculus Rift support;
--- Quests --
Someone needs to stop this madness of fetch quests and grinding inside RPG genre, and I'll make few steps forward. I am introducing dynamic quest system: game will have several sub-stories advancing in time. The main idea is:
1. Every quest has indirect reward.
2. Every quest influences game world physically.
3. All quests are important for the storyline.
There is a lot more to this system, but I'll save explanations for later, once I have it partially working.
-- Castle Building --
That good old Harmondale! Your castle plays central role in the game now. During whole gameplay, you will gradually improve castle, its defences, place new weapons and fortifications, gather army and allies.
If you decide to learn more about game's lore from its wikipedia, castle will make even more sense to you. And to be totally honest: MM7 beats MM6 for me only because I had that Harmodnale, lol.
-- Story --
Game takes place in the Dream World, on the Ideal Country layer, and player takes role of a 4 holy deties - the Guides.
I have developed the story for more then 5 years. Never had any chance to use it in any game, so that is why it improved for so long, and became capable of carrying fantasy RPG solo mid.
Game will feature 4 different endings, one of those being 'true ending'. I am personally a huge fan of 'True Endings', likely, from the time I've played Valkyrie Profile:Lenneth; True Ending is for those whom can perceive well, understand what's really going on, invest time in correct and clever character development, and true ending is going to be very rewarding in terms of production value. That is how it should be in every RPG.
I have some kind of wikipedia, if you are interested in game's lore, but it is short on info at the moment:
http://hcompgames.com/ryumaster/test/home.html
-- Soul Quants --
Yah, its kind of a new currency. Your mana points are recharged from its pool , and every save game uses SQ as well. If SQ reaches zero, its game over. So you will need to catch some twisted humans from time to time and imprison them, in order to draw SQ. Soul Qunants are essential not only for the story, but for the game mechanics too. They will serve fighting cheap hacks, fighting save game abusement, and will force to have good mana and spell management in overall.
-- Astral Prison --
In order to stay alive, you need to draw Soul Quants from the humans. So you capture them, keep them in the prison, and torture (mentally). When they are harmless, you can release them back from the Dream World (let them awake), or consume their soul.
I'm not sure yet, how will this torturing mini-game look like, I was thinking about system like Ar Tonelico, but then again I don't want to make something too distracting from the original experience.
-- True Bossfights --
Same will apply to all enemies, but on the bosses it will have the greatest impact ever: use strategy; Modern games goes cheap, to fight boss you either learn his attack pattern, or weak spots, adapt and kill. I will go the other way around: in order to win, you need to make boss play the way you want. As I mentioned, I am putting lots of efforts into AI, simplistic, but efficient enough to use the environment I'm preparing around the bosses. Learning attack patterns would not be enough to secure the victory anymore, to kill OP boss, you will actually need to make lots of preparations and gather the intel. Its easier to show then explain, hopefully I'll compile the 1st boss demo soon.
-- No small talks --
I'm tired of pointless blocks of text in RPGs. It was cool 15 years ago, but now I just can see through how some 5$/h folk writes this fantasy stuff without even caring. It sucks. Every piece of information and dialog in my game is going to be important, connected to some quests or events or hints, I am making all the text worth reading through, especially for those who seeks true ending. It cuts huge amount of text, but on the good side, its not the amount which makes it worth reading (unleast we are talking about Planescape: Torment where every glyph was a pleasure to absorb);
-- Monsters, Spells, Weapons --
Now then, the spells in MM7 are completely off. But not because spells are bad, they are superb, but because they are mostly useless 99% of time. Here I will re-make all the monsters, and build them around the spells and skills, in order to utilize every single spell and combat tactic possible. As I mentioned, the level design and monster design is the most crucial part in improving this game. And dozens of game designers will fail here, as this task is hard, but Orvald Maxwell knows how to handle it flawlessly
I will never use monster in any other location that it is designed for.
On a side note: if you ever want to peek on the flawless execution of level design, go and play Dark Souls 1, and then play Dark Souls 2 to understand even more, how awesome DS1 really was.
Thank you for your reading through all this. While working on the game, its always important to have some communication for not to feel desperate, so feel free to drop any comment