I have been a big fan of the M&M (as well as HoMM) for as long as I can remember. I had a lot of fun playing the Arcomage card game and so I wanted to creature a tribute to it. The following sections will cover some general information about the game, some development information, some screenshots, and finally a few links to where you can download the game. Questions and comments are much appreciated!
Current Version:
1.15
About:
Archmage stays true to the original gameplay of Arcogame while adding a few additional changes of my own design.
Here are a few of the features included:
New set of cards, with some inspired by the old Arcomage cards.
New artwork for the cards, towers/walls, user-interface, and everything else.
Nostalgic sounds of the original game.
New special skills system.
New shielding and acid effects.
A statistics screen when you win.
Gameplay:
In this section I will go over some of the basic gameplay aspects that many of you Arcomage players already know.
You play the character on the left side of the screen and the computer is displayed on the right side of the screen. The 5 cards displayed at the bottom of the screen are yours. You are unable to see the computer's cards. The gameplay is turn-based. You go, then the computer goes, and then the cycle repeats. The player and computer both have 3 types of resources: stone, gems, and minions. You have a certain number of each of these three resources. You also have another number that is your production value. Each turn you gain more of these resources. You may play cards to increase your production values so that you gain more of these resources each turn. Each card has a different cost associated with it as well as a color. Brown for stone, blue for gems, and green for minions. If you cannot pay the cost for any of your cards you will need to discard one of them that you do not care about. Discarding takes up your turn and you do not gain power. You will gain 4 power every card you play and you can eventually use this power on special skills.
Controls:
You may close the program at any time by pressing Escape.
Interface:
WASD/Arrow keys - Interface selection (selection is represented with an underline).
Space/Enter - Confirm current interface selection.
In-Game:
Space/Enter - Start the game or confirm that you have seen what card the enemy has played.
Left Mouse Click - Select what skill or card you want to play.
Right Mouse Click - Discard a card (if you are unable to play anything).
V - Confirm that you have seen what skill the enemy has used.
ASDFG keys - These are the hotkeys to play your cards (A being the first card and G being the last card).
QWERT keys - These are the hotkeys to discard your cards (Q being the first card and T being the last card).
New Features:
There are some features I have added that are new even to Arcomage players.
Shield and acid are two new effects that come from playing cards or from skills. The player and computer both have an interface location at the top of the screen to display them.
-Shielding absorbs all damage. Some cards do direct damage to your tower and bypass your wall. If available, your magical shield will absorb this damage that would normally have not been preventable. It also prevents acid damage.
-Acid damage comes from the enemy using it on you. It is shown next to your shielding at the top of your side. That damage is taken 2 per turn until it goes back down to 0. Your wall and your shield can both prevent this damage.
Also new to Archmage is the ability to use 4 unique skills at the cost of power.
-You earn 4 power for every card you successfully use. If you discard a card because you do not have the resources to play anything then you will not gain any power.
-You and your opponent have 4 unique skills at your disposal which require power gained through playing cards to use. Later in this post I will go over each skill.
You have a limited number of cards now. Along with a limited number of cards comes the use of special cards that reduce the number of cards the opponent has left. The first player to run out of cards loses.
When you win you will be brought to a new screen that will display statistics for you to compare. Here you can find out information like the highest number of resources you and the computer had throughout the game.
Skills:
I will now go over each of the 4 skills individually and their purpose.
Level Playing Field - Costs 20 Power - This skill resets all productions to 1 and resources to 10. This is a good skill to use when you aren't doing so well with resources and productions and the computer is doing very well. Sometimes the computer will use this skill when your productions are very high.
New Beginnings - Costs 30 Power - This skill resets all towers and walls to 10. If you're getting wailed on and the computer's tower and wall are built quite high then this is a good skill to use. If your tower is getting tall then the computer may use this skill to stop you from winning.
Mulligan - Costs 20 Power - This skill will reshuffle all 5 of your cards and draw you 5 new ones. This is good to use if you have 5 high costing cards you are unable to use and would like a fresh hand.
Acidic Conjuration - Costs 40 Power - This skill will raise your tower and wall by 5 and the enemy will take 10 acid damage over the course of 5 turns. When you're happy with how everything else is going, Acidic Conjuration is always a good way to go. It only helps you.
Win/Loss:
The win and loss conditions are similar to Arcomage, yet have a new spin on them.
The first player to reach a tower of 30 wins
The first player to reach a tower of 0 loses
The first player to run out of cards loses
Development:
It took me around 3-4 weeks of on and off working on it to finish the game. I already had a prototype of the game built from around 3 years ago. I just never found the time to get around to taking it to the next step. In that time I also learned quite a bit about Photoshop to create all the art in. And now onto the pictures!
First some screenshots of the actual game:
Pictures of the actual planning of the game: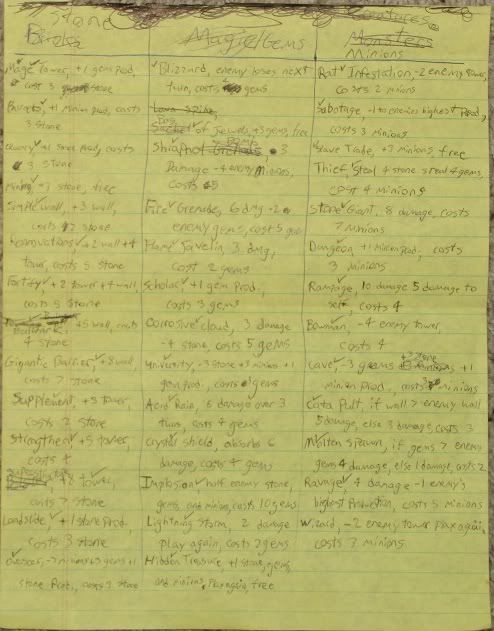 Requirements:
The system requirements shouldn't be a problem. Most computers should be able to run it just fine. The only real requirement to play (besides a keyboard/mouse) would be a screen resolution at least 1152x864 or greater. Sorry if you're playing on an old laptop with a max size of 1024X768 or similar situation.
Download Links:
https://www.dropbox.com/s/sn15d1xf6kke0er/Archmage115.rar?dl=0
Credits & Tools:
Programming and art was done by me. The original concept and sounds were originally the property of 3DO, but it is now the property of Ubisoft.
I used a Software Development Kit to aid in the creation of the game as well as Photoshop for the artwork.