by

Kalah
---
In an official announcement, the developers have pushed the deadline on the Heroes VII expansion to August 8th.
Right or wrong, what do you think?
---
by

Kalah
---
The creature lineup for the Fortress faction has been announced. See the official list here. What follows is my immediate reaction to them:
---
by

Kalah
---
The first expansion to Heroes VII has been announced. Given the title "Trial by Fire", it will be a stand-alone expansion featuring The Fortress faction with their Dwarven rune magic. Set for release on June 2nd, it will also offer players 6 new skirmish maps and 2 bonus scenario maps written by Terry B. Ray.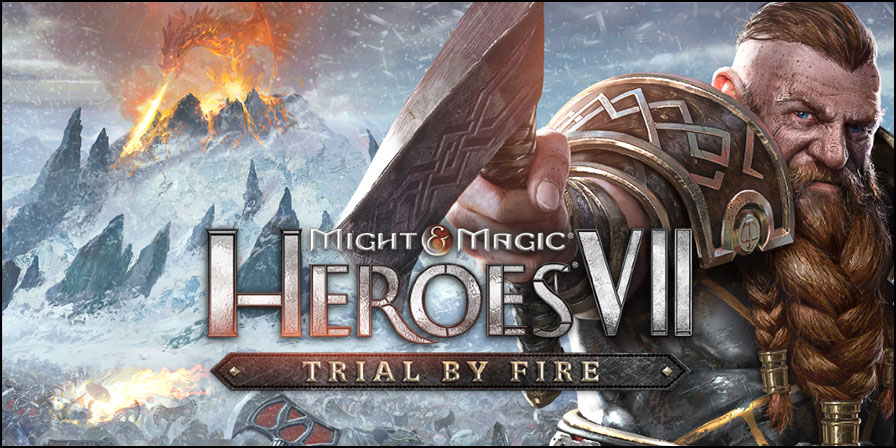 ---
by

Kalah
---
As announced on the official page, another part of The Lost Tales of Axeoth has been released in a free update for Heroes VII.
The patch notes for 1.8 can be found here.
---
by

Kalah
---
Our Round Table forums are used for many things. Among those things not directly M&M related are tech support topics. The Tech Corner thread is a good place to start if you have questions about hardware or software; I have used it myself for consultations with our local tech whizzes about what GPU to buy, how to format hard drives etc.
Pop by if you have questions - let the Community help you.
---
by

Kalah
---
Acid Dragon has launched a mod for Heroes VII, the purpose of which is to give players a larger pool from which to choose creatures. This is achieved by opening the pool of neutral creatures for core and elite tier selection:
Haven: Griffins and Light Elementals
Academy: Shantiri Golems and Air Elementals
Necropolis: Juggernauts and Lilim
Stronghold: Mermaids and Efreeti
Sylvan: White Tigers and Earth Elementals
Dungeon: Shadow Panthers and Darkness Elementals
More info can be found in the Acid Cave.
For comments and questions, please visit our forums.
---
by

Kalah
---
"Everyone's a critic" - so the saying goes. One of the Community's most Ubisoft-critical fans has offered his views on the Heroes VII campaigns in this comprehensive forum article. Why not have a look at it and see if you agree? Feel free to comment in the forum and discuss the state of the game after update 1.7.
---
by

Kalah
---
Just received a message from Karmakeld, one of the brains behind a campaign for Heroes IV.

We're
 pleased to announce that a group of dedicated Heroes 4 fans have taken 
upon themselves the task of creating a Heroes 4 version of the newly 
released H7 campaign: Unity. The H4 version of the campaign will be 
based on the original script, written by Terry B. Ray, which we have 
been fortunate enough to get our hands on (thanks to a certain some 
one). 

We 
plan for our version to be slightly different than the H7 version, while
 still staying true to Terry B. Ray's script. We will tell you more 
about these differences later. Right now, the team is still processing 
the original script and planning out the details of each of the five 
maps. We have great plans for this campaign and hopefully the fan 
communities will support this project.

If you would like to help with the project, please don't hesitate to contact us either on this forum, by mail at 

This email address is being protected from spambots. You need JavaScript enabled to view it.

, or on FaceBook at https://www.facebook.com/groups/1570455336599900/.
---
by

Kalah
---
Since the community of fans are keen to keep playing the old games, here is something that may be of interest: a Heroes IV Tournament run by the fans, here presented by user BrennusWhiskey.
"The Kings" is the second tournament to be run in this series, and will involve several games run over a period of several months, concluding before the end of 2016.
---